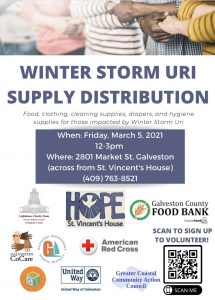 Ice Storm Uri Recovery – March 2021 – Ice Storm Uri
Lighthouse Charity Team participated with community partners in a "Pop-Up" Recovery & Distribution event at St. Vincent's House Galveston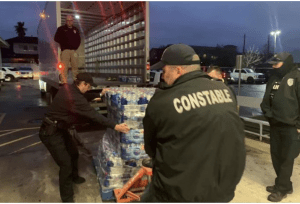 Ice Storm Uri – February 2021
Lighthouse Charity Team procured and delivered hundreds of pallets of water through State Representative Mayes Middleton intended for the Galveston County community.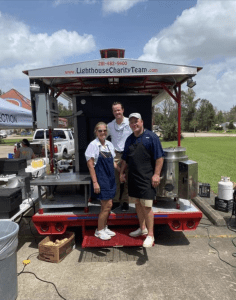 Hurricane Laura – September 2020
Lighthouse served over 15,000 meals to our neighbors in Louisiana who were impacted by Hurricane Laura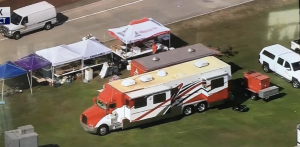 Santa Fe School Shooting – May 2018
Our Team pulled together quickly on Friday to support the First Responders and all of those involved in the tragic Santa Fe School shooting. We stayed on site for 5 days serving hundreds of meals to our first responders.
Hurricane Harvery – August 2017
LCT used our military trucks to rescue flood victims and our volunteers also cooked thousands of meals for those who lost their homes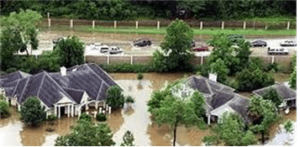 Tropical Storm Allison on June 4, 2001
Hurricane Allison flooded the Houston area leaving 30,000 homeless after flooding houses, hospitals and businesses.  The Lighthouse Charity Team was there to feed those in need.
Hurricane Katrina on August 29, 2005
Hurricane Katrina brought folks to Galveston with only the clothes on their backs. The Volunteers of The Lighthouse Charity Team set up equipment at Moody Memorial First United Methodist Church and George Brown Convention Center feeding these folks for 6 weeks.
Hurricane Ike on September 13, 2008
Hurricane Ike devastated Galveston Island with a 12' storm surge flooding houses, businesses and the UTMB Hospital Complex. 
There was no electricity, gas or water on the island for weeks.  The Lighthouse Charity Team was first on the Island with 2 semi-truck loads of water donated by Del Papa Distributing and Anheuser Busch. We initially staged our equipment at The Del Papa Facility on Broadway in Galveston feeding Emergency Responders and those that remained on or returned to the island to check their property.  After two weeks, Moody Memorial First United Methodist Church requested our services at their location in Galveston.  We brought in an 18 wheeler refrigerated/freezer trailer with a large generator and began to feed people lunch and supper on a daily basis for 30 days.  Our daily meal consisted of a meat entree, vegetable, starch, gravy, baked rolls, desert and a drink.  This was all done at no charge, as the meals were paid for donations provided by the Methodist Churches throughout Houston and other areas.  We had volunteers from all walks of life including the National Guard.  We fed a sit down meal in the Church and had a Free drive thru in outside the Church.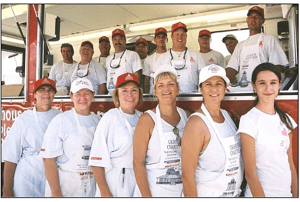 Hurricane Rita on October 4, 2005
Hurricane Rita flooded the Louisiana and the Texas Gulf Coast causing homeless folks from Lake Charles, La. to Bolivar, Tx.
Bastrop Texas Fire September 9,10,11, 2012
Scott Gordon, VP led a Team of 40 Volunteers and 24 vehicles along with support from Galveston PD, Jamaica Beach PD, Friendswood PD and Galveston Constable Precinct 4 to give some relief to the EMS at the Bastrop Area Wildfires.  We set up in Smithville, Texas  to support their Emergency Personnel, The Texas Guard, State Troopers, Water Chopper Pilots and Crews.  Over 500 servings per meal were provided, at no cost, to make these hard working volunteers feel appreciated.
Pelican Island Fuel Tank Explosion near A&M Campus on February 23, 2012
We were called at 8:00PM by The Galveston Police Department requesting food, water and Gatorade for 100 Emergency Responders. This lasted until 6:00AM the next morning.  Over one mile of fire hose was laid out and many firefighters were responding from work without dinner.
Welcome Home Troops – Family and Returning Servicemen
.
Do you need assistance – click here to contact us!